Los Angeles Times addresses why Taiwan president and U.S. envoy are advocating for more religious freedom in Asia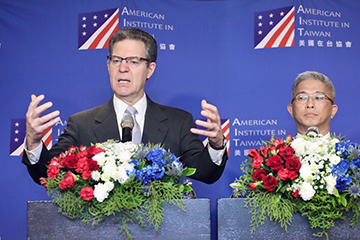 Los Angeles Times addresses why Taiwan president and U.S. envoy are advocating for more religious freedom in Asia
Sam Brownback, U.S. ambassador-at-large for religious freedom, speaks during a news conference in Taipei, Taiwan, on March 11. (Photo courtesy of CNA)
Taiwan is making progressive moves in Asia by recognizing the need to develop religious freedom and democracy within the country. Taiwan's president, Tsai Ing-wen, met behind closed doors with Sam Brownback, the U.S. ambassador for religious freedom earlier this month.
While tension between the United States and China over the Sino-US trade dispute continues to fester, Taiwan is taking the opportunity to strengthen its relationship with the U.S.. The intent, according to Taiwan's presidential website, is so that the two countries "can in the future continue promoting joint values and strengthen the two sides' partnerships."
During his stay in Taiwan, Brownback also attended an interfaith religious freedom forum where 15 countries were present. Brownback discussed "that Beijing should negotiate with the dalai lama over the exiled Tibetan spiritual leader's return to China. He further accused China of detaining ethnic Uighurs, a Muslim population in China, to silence their family members living abroad."
While there is currently little room for religious diversity in China (churches and faith groups must register through the Communist Party in order to be practiced, followed by government monitoring), Taiwan has no religious restrictions. That being said, there is little religious diversity. According to Los Angeles Times, "about 35 percent of its 23 million people practice Buddhism, followed by 33 percent who follow Taoism" while only "around 5 percent follow Christianity."
Taiwan isn't the only Asian country opening its doors to interfaith dialogue. This coming summer, Japan is hosting the G20 Interfaith Forum, and various religious leaders will be in attendance. Religion doesn't play a huge role in daily Japanese life, so an event of this caliber and diversity is unique. Currently, Japan's most practiced religions are Shinto and Buddhism, and beyond those two religious beliefs, there's not much diversity. The Shinto Foundation is helping the G20 in sponsoring this event, which demonstrates Japan's religious willingness to play a role in policy making decisions.
The G20 Interfaith Forum will be addressing how religious leaders of different faiths play a role in enacting policy to help countries reach sustainable development goals. The 2019 G20 Interfaith Forum is organized by the G20 Interfaith Forum Association, working closely with Japanese and international partners. The Forum's goal is to contribute meaningful insight and recommendations that respond to and help shape the G20 and thus global policy agendas. The effort demands careful processes that draw from analysis, experience and the collective wisdom of widely diverse religious and cultural communities.
See this video for why the G20 chose to host their event in Japan this year.
For the full story, read LA Times full article.