IF20 ARI Webinar:
Hinduism and Discriminatory Experiences
September 15th, 2022
By JoAnne Wadsworth, Communications Consultant, G20 Interfaith Forum, September 20, 2022
—
On Thursday, Sept 15th, the G20 Interfaith Forum held its seventh webinar of 2022, organized by its Anti-Racism Initiative and entitled "Hinduism and Discriminatory Experiences." Panelists included Pandit Roopnauth Sharma, President of the Hindu Federation of Canada, President of the Canadian Multifaith Federation, and Practicing Hindu Priest at Ram Mandir in Mississauga; Dr. Jai Bansal, Vice President of Education for the World Hindu Council of America (VHPA), scientist, author, and community leader; Dr. Lakshmi Vyas, President & Chair of the Hindu Forum of Europe, Executive Member of the UK Women Network, Hindu Leader at the European Council of Religious Leaders, and Advisory Member to Hindu Matters in Britain; and Srimathy Thushy Thirun, Vice President of the Hindu Federation of Canada and Recent Recipient of the Queens Platinum Jubilee Award. Dr. James Christie, Ambassador-at-Large for the Canadian Multifaith Federation and Member of the G20 Interfaith Forum Board of Directors, moderated the discussion.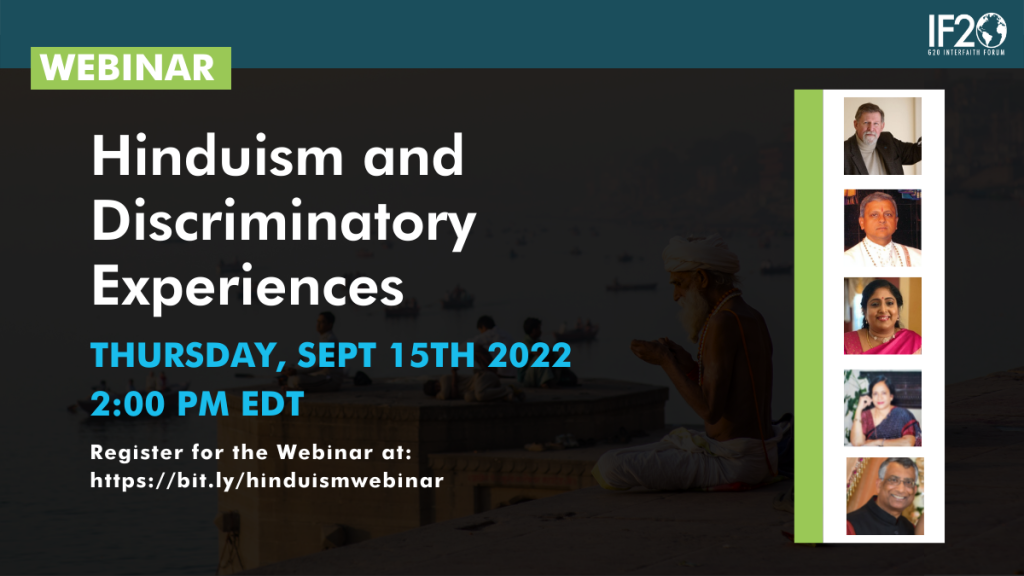 Dr. James Christie began the discussion by welcoming all panelists and participants and introducing the topic at hand. He said there are 1.1 Billion Hindus total in the world, with 350 Million Hindus scattered around the planet outside the Indian subcontinent. However, very little knowledge and understanding regarding Hinduism exist in these outside countries where Hindu diasporas are growing. Three of the countries which have received a significant influx of Hindu people in recent years are Canada, the United Kingdom, and the United States.
"There is an extraordinary ignorance of many of us in the West in distinguishing many Asian traditions from each other in our own communities, as demonstrated by the first casualty beyond 9/11 being a Sikh man in the US who was beaten to death by a mob.  In our two latest webinars, we concentrated on tragedies that have already occurred. Call this webinar a preventative strategy—getting to know our neighbors better now in order to avoid extreme abuse and discrimination."
Christie then offered the floor to each of the panelists for their prepared comments.
Srimathy Thushy Thirun
Thirun based her comments on how the misinterpretation and mistranslation of Hinduism has resulted in problems and discrimination across the centuries. She said that Hinduism, at its true core, is based in the concept of Advaita or oneness—the idea that all are equal and divine, and can live as one in harmony.
The Bhagavad Gita, or collection of sacred Hindu texts, supports that understanding. However, Thirun said that over time, that has been lost. Hinduism has an open architecture with various source books: Sutra (the revealed signs that do not change), and Bhashya, Vartika, and Tika (commentaries on the Sutra and on each other).
"Mistranslation, misinterpretation, and misrepresentation of Hinduism results in discrimination of Hinduism across various mediums. The biggest issue we're seeing in today's age is that when academics who don't understand the tradition comment on the Sutra, the world takes their comments as Sutra. People need to reference the real Sutra when learning. The beauty and accuracy of the Sutra's meanings often get distorted through direct translation."
Thirun said that the reason many today describe Hinduism as Anti-Feminism, Anti-LGBTQ, Caste Discrimination, etc. is because they don't understand what it truly is—and that the root cause of this problem is due to the criminal negligence of Hindus themselves, who are "forgetting their inner software."
"It's not a book tradition. It's a living science. So unless people actually live it, others will never understand it."
Dr. Jai Bansal
Bansal focused his comments on India's history under colonial rule, and how the attitudes from that time period influence the attack on Hinduism and Hindus today (from academia, the media, etc.).
Bansal referenced a quote from James Mill in 1819 when the British interacted with Hindu society for the first time, which was used afterwards as a textbook of sorts for British officers sent to India, shaping their attitudes before they even arrived:
"[Hindus are] imperfect, barbaric, savage, wild, vague, wavering, obscure, rude, primitive, regressive, frivolous, wretched, imbecile, mean, absurd, base, gross, monstrous, superstitious, stupid, degraded, hierarchical, oppressive, immoral, disorderly, violent, selfish, corrupt, deformed, disgusting, groveling, ridiculous, inconsistent, incoherent, ignorant, credulous, timid, dirty, weak, given to exaggeration and flattery, engulfed in darkness and confusion, and hardly different from monkeys."
Bansal talked about how the English Education System was used as a weapon, generating an elite class automatically, since a lack of English education came to be seen as a sign of backwardness. The goal of the system was, according to Thomas Macaulay in 1835:
"To form a class of persons Indian in blood and colour, but English in tastes, in opinions, in morals and in intellect. No Hindoo who has received an English education ever continues to be sincerely attached to his tradition."
Bansal also referenced the fact that since the Sanskrit language was beautiful and sophisticated, Aryan Race Theory and Aryan Invasion Theory were used to invalidate Indian opinions and dissociate Indians from their ancestral, spiritual language—claiming that a "superior race" entered India and gave the locals Sanskrit, some mixing with the locals there and some continuing on to settle Europe without "corrupting" their bloodline.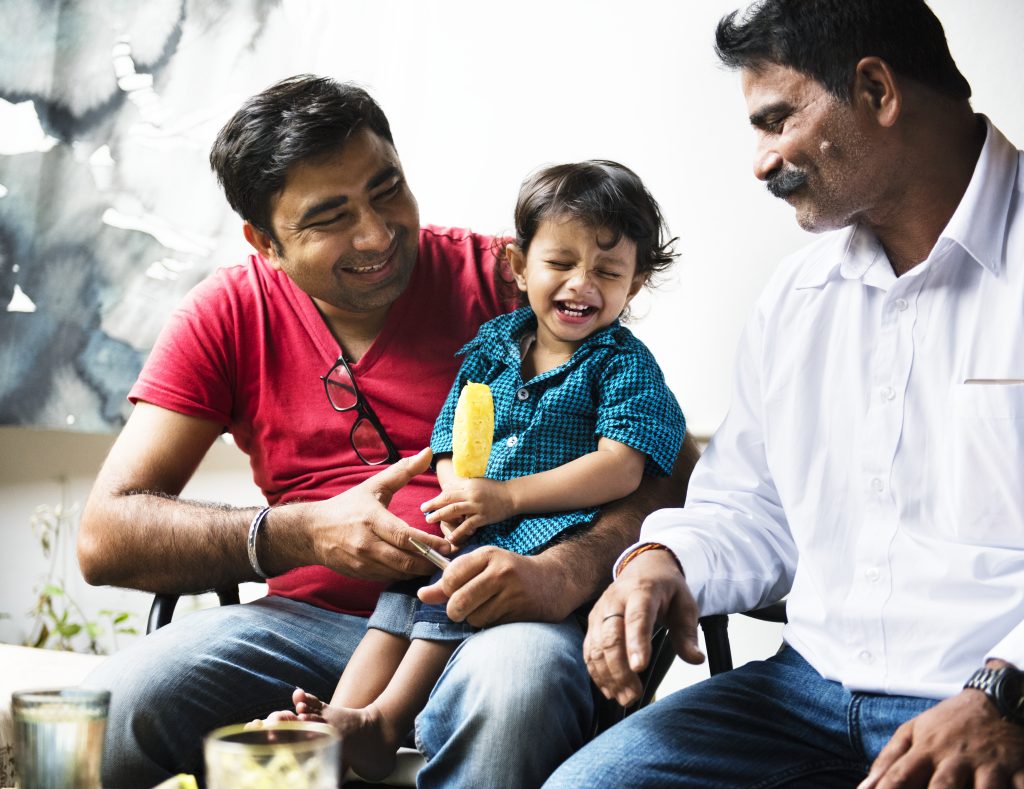 Dr. Lakshmi Vyas
Vyas focused her comments on recent instances of abuse and discrimination against Hindus across the world.
"Hinduism is among the oldest religions of the world. We are a peace-loving people, law-abiding citizens, family-based communities. So I am terribly tortured by the fact that a lot of my brothers and sisters of the Vasudeva Kutumbakam are being discriminated, converted, and abused by vested interest."
She said discrimination, marginalization, and violence faced by Hindus in Canada, the USA, and the UK includes violence against women in the form of abductions, forced conversion, and sexual assaults; attacks on Hindu temples; targeted killings; and large scale mob violence.
Vyas referenced the recent case of Rashmi Samant, who was elected as the first Indian woman president of the prestigious Oxford University Students' Union. Only a few days later, Samant went home to India after being bullied, threatened, and abused for her Hindu faith—with the charge led by a university Staff member.
She also said that any significant win by Hindus (graduation results, cricket match victories, etc.) always results in attacks of various kinds on Hindu people, their traditions, and culture. Hinduism has also been disrespected by businesses showing Hindu Gods on alcohol bottles, slippers, and even underwear.
In conclusion, Vyas offered several points of advice for Hindus and others in responding to discrimination and hate:
Always challenge the message, not the person who spread it
Use facts and data to call out generalizations and inaccuracies
Share positive stories which provide hope
Be polite and don't become abusive yourself
Use humor. It works!
"We as Hindus have and will always remain committed to our core principle of the whole world being one family. I pray that atrocities and discrimination against Hindus may end as early as possible and that peace will prevail."
Pandit Roopnauth Sharma
Sharma focused his comments on another form of targeted discrimination and colonization, often "woven into society under the guise of freedom of religion," with a well-accepted brand name: Conversion.
"Hindus and Hinduism have experienced discrimination for more than one thousand years as a result of conquest and colonization. It persists today. We all want  freedom of religion—but we should not interpret it as forcing our own ideas on others. Conversion is the most blatant act of discrimination that is practiced worldwide, with Hindus and Hinduism as a major target."
He said that colonization has brought targeted conversion to many parts of the world, bringing a lot of pain, including moral injury, destruction of family ties, desecration of holy places, fomentation of rivalry and violence, and more.
As there are people trained specifically to be conversion specialists, and quotas they are assigned to fill, Sharma insisted that these people must come to understand that their way is not the only way—and that 1.2 Billion people can't be so crazy in believing what they believe. The difference between illegitimate coercion and legitimate persuasion in conversion, he said, is when people work with a mandate to convince, disregard the other person's identity and experiences, etc.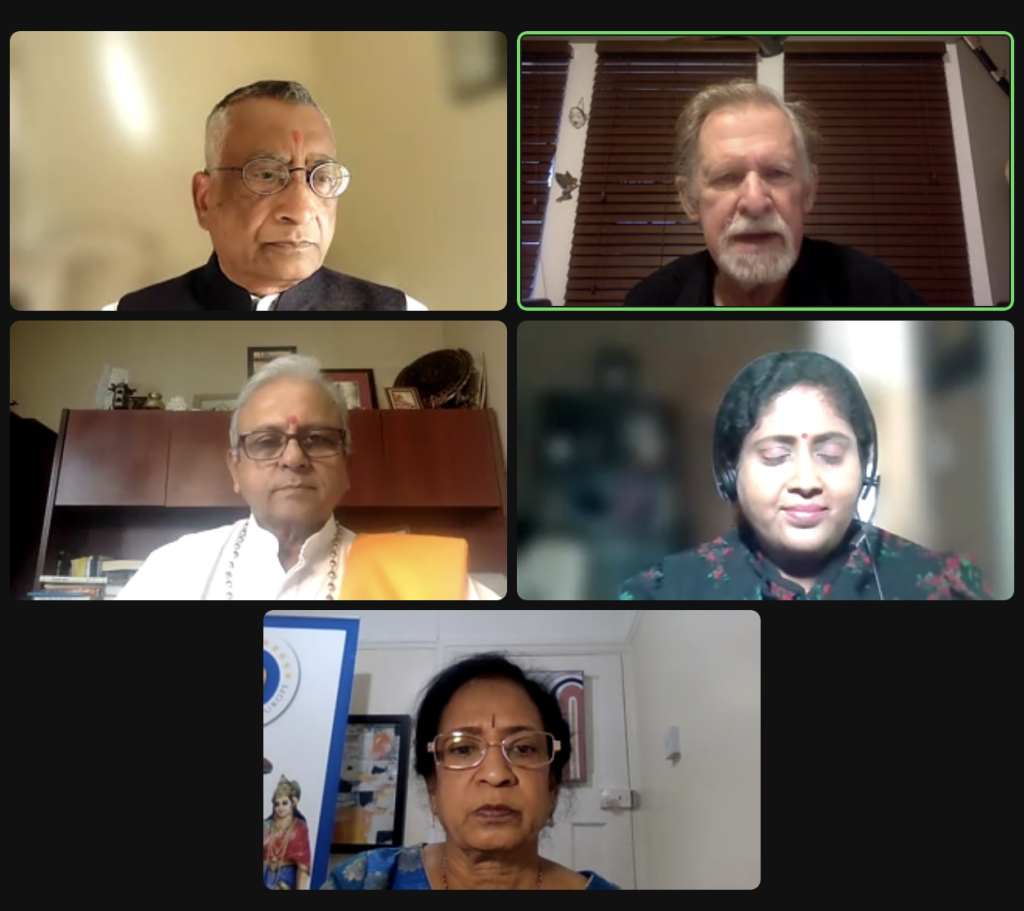 Round Table Discussion
Christie then invited all of the panelists to continue the discussion on the points that had been offered in more of a round table format.
Pandit Sharma: It is exciting that this webinar has happened, but this is just a drop in the bucket of the effort that must be made to educate and engage the globe.
Jai Bansal: For too long, Hindus have been silenced and denied a voice. Even interfaith conferences are populated by Western scholars, and Eastern views are seen as biased and irrelevant. We need to do more of this and help people understand where we're coming from.
Thushy Thirun: This is a great start on a global level. Discovering the depth of Hinduism, I feel that it has much to contribute to the challenges of today's world. This is just the beginning of what I hope are many more events looking at the depth of Hinduism.
Lakshmi Vyas: In almost every country in the world, there are Hindus working hard, keeping the law, etc. My worry is why is this discrimination happening then? Just keeping quiet doesn't work.
Jai Bansal: Many of us came to the West in the 1960s. We came with education, and have done relatively well financially. Many of our own numbers don't see this discrimination because they don't see it in the professional spaces. But they aren't paying attention to what kids are learning in schools, what the media is talking about, etc. A hateful atmosphere is slowly being built.