Protecting Places of Worship: Security Research and Innovation Webinar
September 2, 2021
Webinar Summary By JoAnne Wadsworth, Communications Consultant, G20 Interfaith Forum
On Thursday, September 2, the G20 Interfaith Forum's Technology and Innovation Working Group, in cooperation with the European Commission Department of Migration and Home Affairs, held a webinar entitled "Protecting Places of Worship: Security Research and Innovation." The discussion looked at four of the projects initiated by the EU to combat the recent uptick in hate crimes and terrorism against places of worship. Panelists included Marco Ventura, Chair of the IF20 Technology and Innovation Working Group; Shaukat Warraich from Project SOAR; Sotiris Themistokleous from Project PROSECUW; Marcin Podogrocki from Project ProSPeReS; Andrew Staniforth from Project PROTECTOR; and Dr. Richard Burchill, an Expert Advisor for Project PROTECTOR.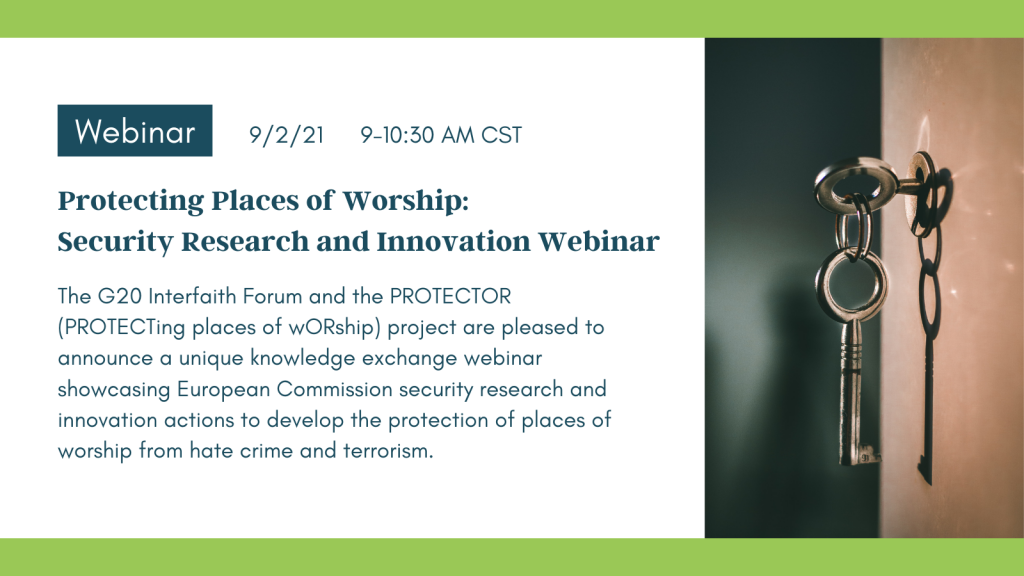 Marco Ventura opened the webinar by welcoming all attendees and participants and providing an overview of the G20 Interfaith Forum and its objectives. He said that the EU is becoming an increasingly prominent actor in the field of religion and belief, dealing well with the sensitivity of related matters on the global stage, and that the IF20 recognizes their important role and the potential for meaningful partnerships where their work overlaps with that of the IF20.
"In this context, for both the IF20 and the European Commission, this webinar covers a crucial intersection between the ancient and the new—looking at how to use innovative securities to better protect our traditional places of worship."
Andrew Staniforth, who also moderated the webinar in addition to presenting as a panelist, proceeded to outline the context surrounding the European Commission's establishment of the projects to be discussed.
"Religious sites of different faiths have been increasingly targeted by extremists in recent years, and they're considered to be especially vulnerable to attacks because of their accessibility and open nature. There are usually very limited security measures, and concerns are only growing surrounding hate crime and terrorism. As part of a broad range of measures to combat terrorism and hate crimes at places of worship, the European Commission established various projects. We will hear from four of those successful projects—what they have researched, what they hope to achieve, and what progress they've seen so far."
Shaukat Warraich
Warraich began his comments by presenting a timeline of the "journey" surrounding protection of religious sites: reviews of how to better integrate and support 2nd and 3rd generation ethnic minorities in 2004, the publication of the first Mosque and Islamic centre management guide in 2006, new strategies surrounding usage of community infrastructure in 2009, the murder of a British soldier on the streets of London in 2013, and the killings of worshipers in New Zealand and Sri Lanka in 2019.
Project SOAR's work plan consists of several steps, including:
Conducting participatory research on the security challenges faced by at-risk religious communities in 7 pilot EU member countries
Spearheading communication campaigns to raise awareness on threats, response, and reporting at religious sites and in their congregations
Build the capacity of faith leaders to analyse, assess, plan, train, prevent, and protect through trainings and tools
Disseminate best practices amongst policy makers to contribute to future informed security prevention for religious sites in EU member states
Their community-centric approach will focus on understanding the specific needs of faith leaders and working with them within existing structures to better protect their facilities, utilizing on-the-ground skilled officials called CDO's. SOAR is also working with the European Council of Architects to develop the concept of "Security by Design"—designing  particular architectural features into a building that can protect both the worshippers and the historical nature of the building itself.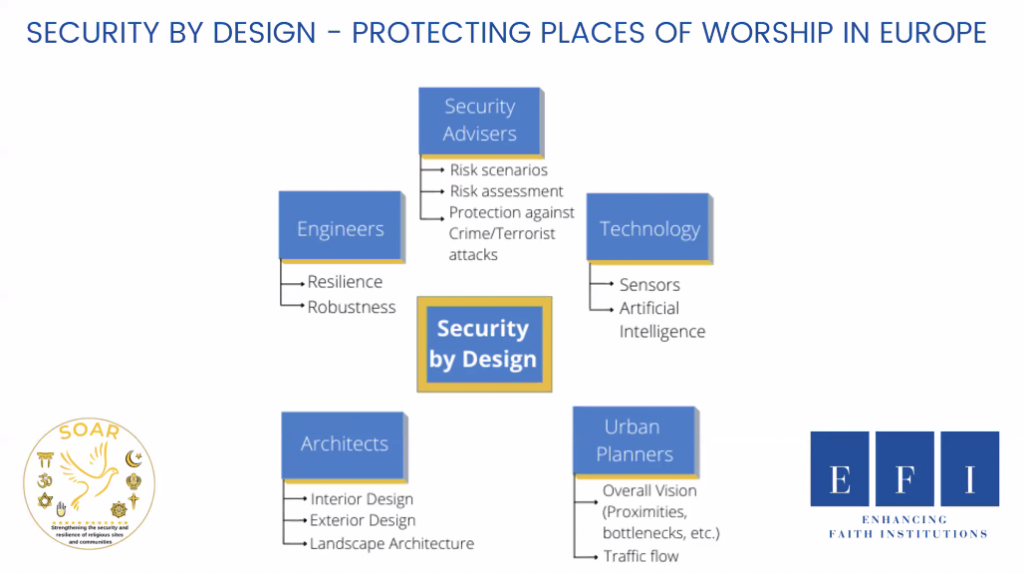 "The team that's come together very much understands places of worship and the people that are using those facilities. We want to develop strategies to protect those places and practices while still allowing them to continue unhindered."
Sotiris Themistokleous
Themistokleous introduced the PROSECUW Project, which is being led from Cyprus by the country's Center for Social Innovation and their consortium partners. The project is based around the context of Freedom of Religion or Belief (FoRB) as an essential human right, and is focused on three pillars:
Providing training to local law enforcement, security, and religious leaders
Create a best practices manual based on training activities to distribute EU-wide with policy recommendations
Spearhead a number of awareness-raising activities throughout religious communities in particular
The project is currently in its research phase, and hopes to use its findings and assessments to contribute to a set of security training and coaching resources, focused on protection, for local law enforcement and faith leaders. In addition to other training and awareness-raising activities, PROSECUW also plans to produce a digital story-telling-based documentary.
"Our objective is to enhance protection at places of worship in Europe by setting up cooperation between public authorities and faith-based leaders—aiming at a better understanding of security threats through the promotion of awareness-raising activities."
Marcin Podogrocki 
Podogrocki centered his comments on Project ProSPeReS, based in Poland. He reiterated Ventura's comments from the introduction on why religious sites are particularly vulnerable, and emphasized the need to find a balance where places of worship can be protected without losing their accessibility and open, welcoming nature.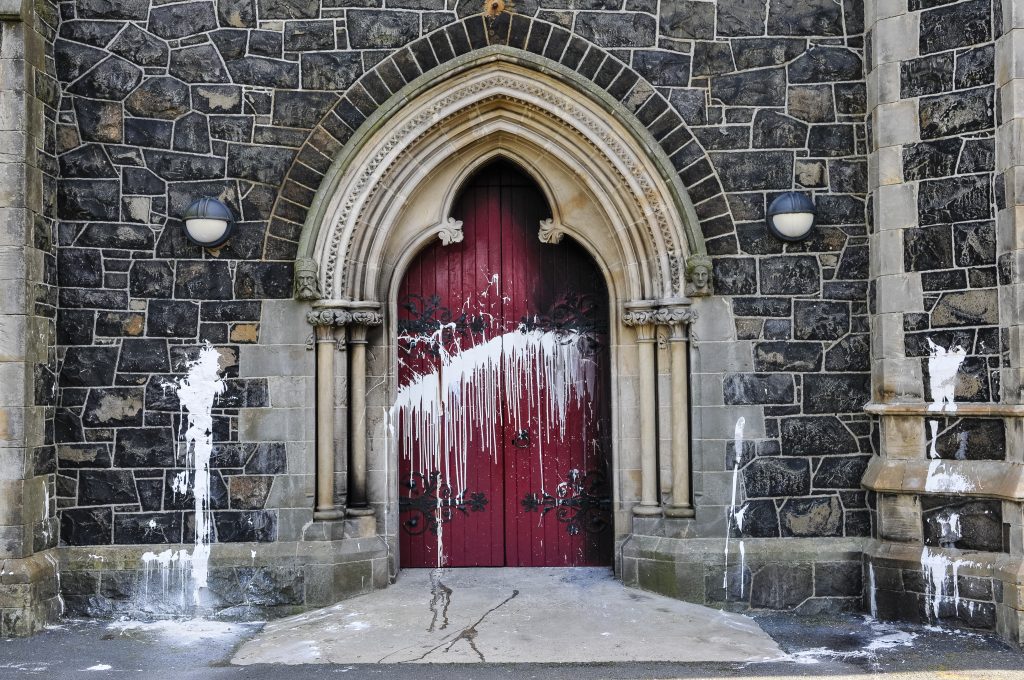 The project is working closely with a wide consortium, including law enforcement agencies, faith-based organizations, public protection experts, and technology providers. Their objectives over the next two years are as follows:
Foster cooperation between religious organizations, security experts, and public protection services through joint workshops, trainings, and meetings
Exchange best practice examples while elaborating on needs and gaps through vulnerability assessment reports, existing research, and additional analysis
Assist religious sites in creating tailor-made and validated security measures, utilizing security by design guidebooks, procedural templates, and basic threat scenarios with reaction models
Create a modular training curriculum for leaders and communities and an eLearning platform with VR simulations
Train staff to conduct vulnerability assessment workshops, training sessions, and large-scale exercises at religious sites
Conduct an EU-wide security raising awareness campaign
Andrew Staniforth
Staniforth spoke to the PROTECTOR Project, thanking the IF20 for its direct support and input as a collaborator on the project's efforts. The project works closely with law enforcement agencies to benefit from their expertise and develop training for police officers and local authorities, focusing on improving the security postures of places of worship in practical ways that nearly any community could implement.
PROTECTOR just finished a thorough round of research on hate crime and terrorism threats to places of worship in order to get an insightful picture of current contexts—including current law enforcement policies and practices when responding to such incidents, current cooperation levels between public authorities and faith-based leaders, and the current protective postures of places of worship.
Outputs the project hopes to develop over the next two years include an overall engagement strategy, LEA Operational Briefings, a situational awareness tool, a security handbook, an LEA control strategy, tailored security plans, a communications campaign, a training toolkit, and a webinar series.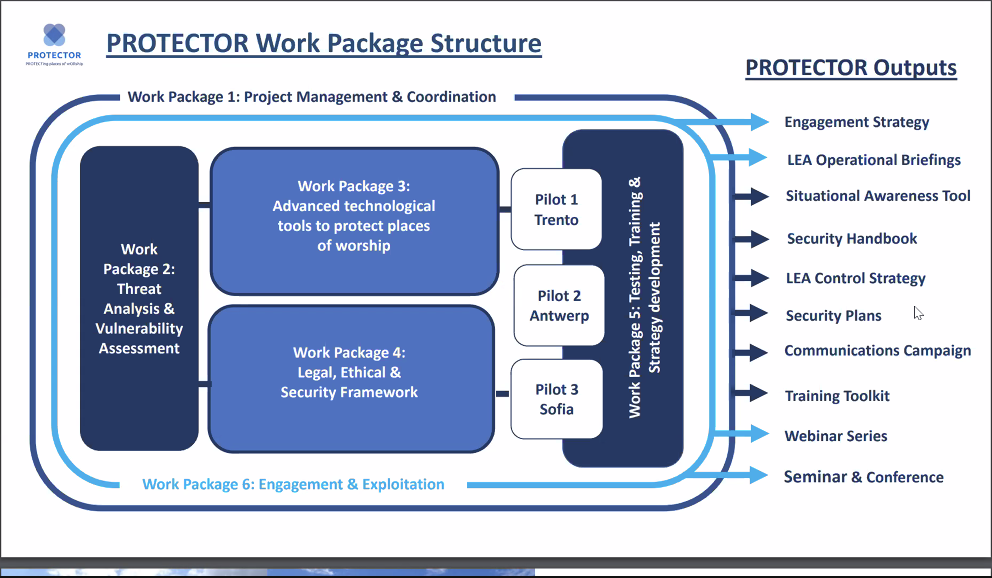 The project's efforts will wrap up with large conferences in three pilot locations (Trento, Italy; Antwerp, Belgium; and Sofia, Bulgaria) to demonstrate how PROTECTOR security systems can be brought together at various places of worship in close proximity to each other.
Dr. Richard Burchill
Burchill responded to the key themes brought forward by all of the projects, commenting that he was impressed by the collective focus of the projects on both community and communication. He said that though technology and physical security measures are important, the human focus—making sure that the people involved feel secure—is crucial, and is often overlooked. He said communication of these strategies is also essential, because these projects will only last a few years, while the issue will continue on.
"If we can protect these religious sites while still allowing for their openness, we go a long way toward removing some of the extremist ideologies behind these attacks. This year the IF20's theme is healing—and healing is very important following any traumatic event in society. But what I'm hoping is that we'll be able to provide levels of protection where we can prevent further attacks on these sights and focus our energy less on healing and more on collaboration and community."
Conclusion
In conclusion, Ventura said that the work of the EU groups was going to be of great inspiration to the IF20 in many respects.
"What I take from your work is that there's a responsibility for both faith and government communities to engage in a wider conversation around this. There's a need for the actors in IF20 to be part of this conversation, even though that role might not be obvious. But your projects give us a start and a foothold."
Staniforth ended the webinar by thanking all audience members and participants and encouraging everyone involved to engage with the projects online and on social media for further information. He said that in coming months there would also be a follow-up webinar to talk more about the fruits of the projects.